Note from me to you: Because my family is now quarantining,  I decided to write something for my two grandsons. Imagine my surprise and delight when it just kept going and going. This poem is also available as a  ten-page printable book you can share with your own children or grandchildren.  The pictures print just fine, even if you use a black and white printer. To download your copy, see the Books and More tab on this website.
When People Get Sick . . . Give Happy a Chance!
There once was a time when folks just got sick.

Oh, my gosh! Oh, my golly! Oh, golly! Oh – ickkk!
The Mamas, the Papas, littles ones, too,
the Mimis, the Nanas and Gran Papas – phew!!
Folks had to stay in, to stop all the germs.
I'd just as soon eat a big can of worms!!!!

This staying in thing, this going nowhere,
is a pain in the rear, in the old derriere!
This staying home thing is such a big bore!
Why, it puts me to sleep! Why, it just makes me snore!!!
Why, I'm so tired of this house, that I could just scream,
I just want to go out! Do you know what I mean????
I want to see friends, and to run and to play!

What I really just want is a plain old plain day.
I want all the usual, the cool daily stuff.
Yeah, one day of old usual would be good enough!
Yeah, all the old usual, the things I thought plain
are gone, and old "Boring" – he's all that remains.
                                Old Boring

Old "Boring", you say? Who is that old chap?
Why, the worst of the worst! A big old mean trap.
He's the trap that could catch you and make you feel bad.
Why, if you are not careful He'll make you feel sad!
He'll tell you that good things are over, all done.
He'll tell you you'll never, no never have fun.
But he's a big liar! Don't' believe him! No way!
His pants are ON FIRE!!! Look! He's running away!!
. . . because. . .
When you look with good eyes, when you look for the good,
You'll see as you ought. You'll see as you should.
                                So Many Good Things
Why, you'll see that there's still so many good things
Good ways to have fun, and the joy that joy brings.

Why, you can laugh with your brother, your sister, your fish!
You can even cook up your best tasty dish!
You can sit in the grass in the shade of a tree.
And count puffy clouds! How happy you'll be!
You can read the same books that you've read before,
and discover new things Yes! New things galore!
. . . because . . .
when you read a good book it makes your heart fly.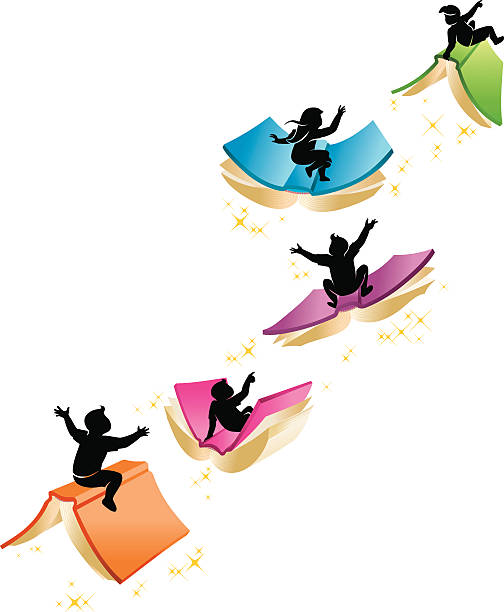 You're free as a bird, without even a try.
                                    Good Books
Just relax and just read. Hear what the words say,
and the things they are saying will take you away.
You'll go far away, to some wonderful places,
where people have joy and such smiles on their faces.
You'll go to the stars, or maybe the moon,
and you'll get there real fast, why, even by noon!
You may go by rocket, you may go by plane,
your may go the slow way by an old friendly train!
Your book, your good friend, will take you – it will,
to places you'll love as you read and sit still.
Yes, sit still and just think of what the words say.
The words are like friends that just want to play,
friends just like Sally, old Fred or old Joe.
Good friends who play with you, who like you, you know?
With a nice couch to sit on, and a book in your hand,
you have such a good life! Oh my! It's just grand!
And then staying home, will not be so bad.
You'll think "What a good day! What a good day I had!"
Yes, if you'll read a good book, or play some board games,
put together a puzzle, or make up fun names. . .
or create a fun house out of blankets and chairs,
why, Happy will find you, yes, quite unawares!
                                         Happy and You
Happy and you will find lots to do,
some things that are old, some things that are new.
And when you're with Happy, all things are just fun,
and before you can know it, this day will be done.
You'll tuck into bed, just Happy and you,
and you'll have a good sleep, you both will, you two!
And then, why tomorrow, just guess who'll be there,
Waiting and waiting with more fun to share.
Yes, Happy will wait until you awake,
and then you'll be off as quick as a shake.
Yes, off for more fun and funny things too,
for Happy will help you find new things to do.
And then staying home won't be such a bore,
for Happy will always have fun things in store.
                                  How to Find Happy
So, "How?" you might ask, "Just how?" you might say,
"Can Happy stay with me, and play every day?"
Well, if you will just put your mind on good things,

Why, Happy, old Happy, will make your heart sing!
Yes, Happy will come and sit beside you,
and play with you, friend, yes, all the day through.
So, just keep your mind fixed on things that are best
and let the old world take care of the rest.
You just decide, yes, make up your mind,

that Happy is something you really can find.
Yes, look for things good Don't look at things bad.
And you and Old Happy – you'll both be real glad!
            Time to go, but remember this!
Well, my dear child, my best-est book friend,
It's time for this story to come to an end.
But remember, dear one, don't ever forget,
that happy is something you always can get.
But "How?" you might say, "Just how?" you might ask,
"Do I make myself happy? That's a big and huge task.
Well . . .
You always can laugh, you always can smile,
You always can try, a little, a while. . .
then, Happy is there, down deep in your heart!